Let's have a look at what have accomplished in May!
PulpoAR has been chosen as one of the top start-ups in major Startup Contest "Stars of Region" in #UEZ2021 held in cooperation with GB Angels and Endeavor!
PulpoAR has been selected to Grupo Boticario's acceleration program.
World's first Web-Based Virtual Nail Polish has been launched with Flormar.
Virtual makeup solution we developed for Flormar has been tried by 1.4 million times by 56K people in a month only ?? 
MVP of our AI based Skin Analysis and Hair Color Changing solutions have been completed and ready to launch before summer.
Alev's Lift + Glow filter is developed by our Upfilts team and got high number of trials! We had 1.5 million view in just 1.5 days with the cooperation of Upfilts and Melo App. 
PulpoAR's virtual makeup and smart mirror solutions are in Watsons ✨ 
PulpoAR launched FutureHub! Free trainings, webinars, mentorships, job opportunities…  University students all around Turkey will get supports from our experts and grow their skills in tech/design industry and start-up ecosystem.
New blog post is live: This handy guide helps to understand how the audience can find and share brands Instagram AR beauty filter, how to best launch and promote products and how the brands will be able to measure audience engagement with the branded AR experience.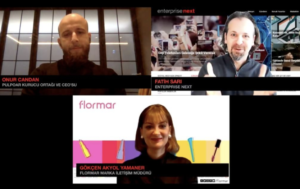 Read our interview with Marketing Türkiye about PulpoAR's innovative approach and how the world of retail transformed during the pandemic.
Interview with Fatih Sarı and Enterprise Next we talked about the success and vision behind the Flormar Virtual Makeup Project developed by PulpoAR.