The growth of e-commerce, the rise of social media as well as an abundance of new beauty brands have made the beauty industry a very competitive area. Many companies are competing for having a bigger portion within the market share pie. Here, AR  technology presents virtual try-on and analysis tools for beauty brands. The technology does not only let beauty brands boost their online sales but also completely revolutionize the brand experience. It provides a fascinating customer engagement by the virtual experiences. 
Let us explain to you how you can benefit from AR technology for your beauty brands. Highlighting the use of cases from the beauty giants and the benefits of AR beauty for your brand will shed clear light upon this issue.
Giant Beauty Brands Use Cases 
L'Oreal uses a Makeup Genius app that converts smart devices into an interactive mirror. It allows customers to virtually try-on various makeup products in real-time. Thus eliminating the need for physical interaction with tester products.
Benefit's mobile app lets users virtually try-on products. It basically works when the user uploads her photo and AR works to help the consumer visualize how the product will look like on her.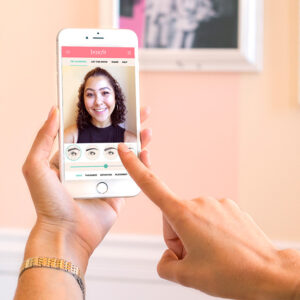 Sephora uses the integration of AR beauty tech for the customer's in-store experience. Color IQ foundation finder helps customers to find their perfect color and shade. Similar to Color IQ, Sephora also launched Lip IQ, which helps customers to find the right lipstick shade. The company is continuously launching new technologies using AR, including Expanded Looks, the Cheek Try On, and Color Match.
Maybelline applies augmented reality nail design projects in the form of an app. Customers can try as many colors as they wish on their nails, which saves a big amount of trial time and also initiates users to purchase more.
There are also giant uses of AR in skincare. Skin360 by Neutrogena and Clinical Reality app by Clinique can analyze close up images for your skin within seconds. And then they recommend skin care products and routines.
As a giant player in the beauty market in a different category, Youtube is one of the biggest pioneers using AR beauty technology on its platform.  With a high number of makeup vloggers, it is a great place for beauty brands to promote their products. Youtube's AR beauty try-on designed in compliance with a divided-screen display while viewers watch the tutorial video launched last year. It is not only fun for both sides, but also provides a great boost for online sales offering AR-powered ad campaigns.
Benefits of AR Technology for Your Beauty Brand
Personalized Beauty Recommendations
"One size fits all' approach no longer appeals to customers. With the AR beauty technology, brands can better understand human behavior and preferences, and adapt and deliver a more tailored experience to match their needs. For example, with Sephora's Color IQ, the shopper's experience is personalized as the user can find a shade that works best for her or matches closely to her skin tone. This "extreme-personalized" approach plays a huge role in reducing trial and error purchasing. According to Forrester, 77% of consumers have chosen, recommended, or paid more for a brand that provides a personalized service or experience. 
Appealing to Millenials
Marketers in the beauty industry have never seen a powerful shift driven by millennials. This new generation goes to the store already full of information about the products they intend to purchase. According to research by Poshly, "65% of millennials would rather listen to their favorite YouTuber than an in-store beauty advisor."
For beauty retailers, AR can attract these buyers through digital engagement both in-store and online experiences. For a generation that is Instagramming almost everything, the experience has become more important than the product itself.
Leveraging Data for Creating Better Products
AR beauty technology allows brands to collect individual data such as skin type,  product preferences, previous purchases. It also measures customer engagement metrics like engagement time and rate, the number of trials and pictures taken, etc. This feature allows brands to leverage their knowledge within their customers and provides invaluable insights to develop better products in the future.
Level-Up the In-store Experience
The millennials are comfortable using the apps. However, many consumers still go down to the store to try the physical product before they make their final decision. 
Touchless smart mirrors at the beauty stores provide beauty brands to create their physical shopping experience by delivering touchless try-on features. Customers can try as many products as they want before deciding their ultimate choices. This feature, combined with personalized beauty tips from in-store beauty advisors enables it to become a splendid experience for buyers.
Increase Engagement and Build Emotional Bonds
AR experiences generate a 70% higher memory response compared to non-AR experiences, meaning that these kinds of experiences make brands much more unforgettable to consumers and directly affect purchasing behavior. Simply put: the more the engagement, the more likely the customers are to purchase from your brand.
Fun filters are a great way for your brand to increase customer engagement and build an emotional connection with them. AR filters have an impressive effect on expansion through social media. It is a highly effective way to create word-of-mouth as users share these fun AR filters with their followers, which leads to positive brand awareness. Last but not least, the users of the AR apps are more likely to spend. According to a 2017 Intage study, "Users of the YouCam Makeup app are 1.6 times more likely to purchase cosmetic products compared to those who don't, and are likely to spend 2.7 times more money on beauty products."
In today's world, where people are spending less on things and investing more in gaining experiences, the marketing of goods and services with AR will gather pace in the beauty industry. It is the digital-first brands that are best positioned to win in this new environment. Let Pulpoar's experts show you how you can use AR beauty technology for your makeup brand to be best positioned among your competitors.