AR beauty solution is a revolutionary technology for creating an outstanding customer experience from how customers engage, decide, and purchase the products. AR beauty has become an accelerator in the beauty industry with various forms of technological advancements both within online web & app integrations, in-store, and social media experiences. 
PulpoAR is a technology company that develops Augmented Shopping solutions using AR & AI technologies customized for beauty brands. In the last four years, we have created perfect facial recognition technology for makeup products as a result of R&D we have carried out with more than 500 thousand data. Our face algorithm offers a realistic experience with a rate of %85.
PulpoAR's AR beauty solution is a powerful tool for makeup brands. Brands can build an emotional connection and increase customer engagement by narrating strong stories and meeting their needs. With the insufficiency of product testing in online channels and limitations on using testers in brick and mortar, beauty brands must use an innovative solution to sustain their sales. With our technology, customers can effortlessly try every conceivable cosmetic product such as lipstick, eyeliner, blush, mascara, powder without worrying about hygiene problems. Besides, as makeup brands' inquiries for appealing to the hearts of millennials, they tend to invest more in AR beauty solutions. By its virtual try-on technology, any customer from anywhere in the world can try your products and order without any hesitation in their minds as they can see how the product looks on themselves. Taking account of all the facts we have mentioned,  AR beauty technologies lead to a boosting effect on sales and maximizes the customer experience on its top. 
Let's deep dive into the values that PulpoAR can offer for your beauty brand by displaying our fabulous projects and client's success stories.
Level-Up the In-store Experience
By combining our technology with touchless smart mirrors, we can offer your customers a virtual try-on experience in your offline stores. These mirrors can be produced in different sizes and be located in shops for a virtual try-on in shopping malls for e-commerce sales. Customers can try as many products as they want before making their final choices. This feature takes the burden of time-wasting from the customers and brings practicability.
And also, combined with personalized beauty tips from in-store beauty advisors, it provides a splendid experience for buyers.
Here is an example of a smart mirror we set up for our client, Flormar in SAP Innovation Center.
One of our collaborations is with Akasya Shopping Mall; we set up a kiosk enabling users to try products on their phones. It simply works like the following:
Scan the QR code.

Choose the product.

Try it.

Get a discount code.

Walk in the store and purchase the product.
Even though there is an incredible decline in visits to the malls, 2000 products were tried within one week.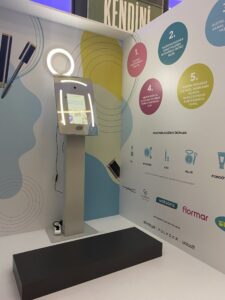 Personalized Beauty Recommendations
According to Forrester, "77% of consumers have chosen, recommended or paid more for a brand that provides a personalized service or experience". 
PulpoAR's beauty technology provides brands with a better understanding of human behavior and preferences. It adapts and delivers a more tailored experience to match their needs. With its web integration, you can reach your customers everywhere from offline stores to online stores and through social media. Your website visitors and potential customers can try your products via your website & mobile app on the browser by adding a try-on button. Also, through the integration of already in use e-commerce apps, we can create an opportunity for the customer to try-on desired products before committing to the final purchase.
Here is one sample of the web integration we have created for Note cosmetics:
And below is how it looks on app integration:
In our Color Bar project, in which we created a demo for an Indian client, users can try-on different colors on their nails and decide which one looks best in just a few seconds.

Increase Engagement and Build Emotional Bonds
AR experiences make brands much more popular and valuable in the eyes of customers and directly affect purchasing behavior that generates a 70% higher memory response compared to non-AR experiences.
Social media filters are the most fun way to interact with your customers and boost your brand. With AR Filters, you can increase brand awareness while gaining new followers and engaging with existing ones. PulpoAR creates AR filters for brands that have a high impact on expansion through social media. This leads to the opportunity to go viral. It is a highly effective way to generate word-of-mouth as users share these fun AR filters with their followers, which provides a positive brand awareness.
We can bring any of your ideas to life from Sync Effects With Movement to Effects With Objects, and Places. It is easy to integrate, optimized for low-end devices, and provides accurate face tracking. PulpoAR can offer your brand the followings:
Face filters

AR animations

AR games

Background filters
Here is our success story with a collaboration with ZUBIZU. AR Filter created for Valentine's Day and below are the statistics between 11th and 18th February 2019:
1.607.522 Captures

112.985 Shares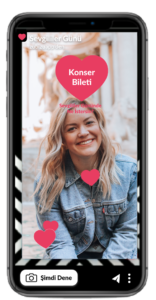 Leveraging Data for Creating Better Products
Our AR beauty technology allows brands to collect user data such as skin type, product preferences, previous purchases. It also measures customer engagement metrics like engagement time, engagement rate, the number of trials and pictures taken, etc. This feature allows brands to leverage their knowledge within their customers and provides invaluable insights to develop better products for their customers.
PulpoAR's beauty solutions also provide the metrics which are necessary to measure the success of campaigns. You can see the one we currently made for Watsons with Revolution X Sebile collaboration. It has brought 6.9 million impressions, 904K captures, and shared 80K times.
Here are the engagement metrics of Gratis and Cheekbone, our Canadian client.
Increase Your Sales Conversion 
We enable customers to see how their products look on them. Thus, our clients have dramatically increased their sales conversion and reduced costs related to product return. 
PulpoAR's AR beauty solutions provide accurate results, as can be seen from the photo below. This lipstick is from Flormar's "Kiss Me More" series; it is applied on the left and uses AR beauty technology on the right photo. 
Our new generation beauty marketplace, Makeup stylist app provides facial recognition and AI-based product suggestions. It is used with just 3 simple steps: the customer chooses the product, tries it, and then buys it.
With a feature of brand-specific shops, brands can exhibit their new collections and make them available directly to the user's experience.
Here is the one we created for Flormar:
Future is already here! 
We have also been working on one of our upcoming products: Make-up Vending Machines and needless to say: we are so excited to launch it very soon. 
Vending machines are the ones we see everywhere in our lives but think of it with innovative style selling beauty & make-up products. And it simply enables users to virtually try-on these products before getting products from vending machines.
The marketing of goods and services with AR will gather pace in the beauty industry. It is the digital-first brands that are best positioned to win in this new generation competition. Are you looking for creating the next big innovation campaign for your beauty brand? Get in touch with us and let our beauty experts show you how Pulpoar can help to boost the sales of your beauty brand.